The Lordiest of Ferrets
Moderator
Join Date

Feb 21, 2018
Messages

298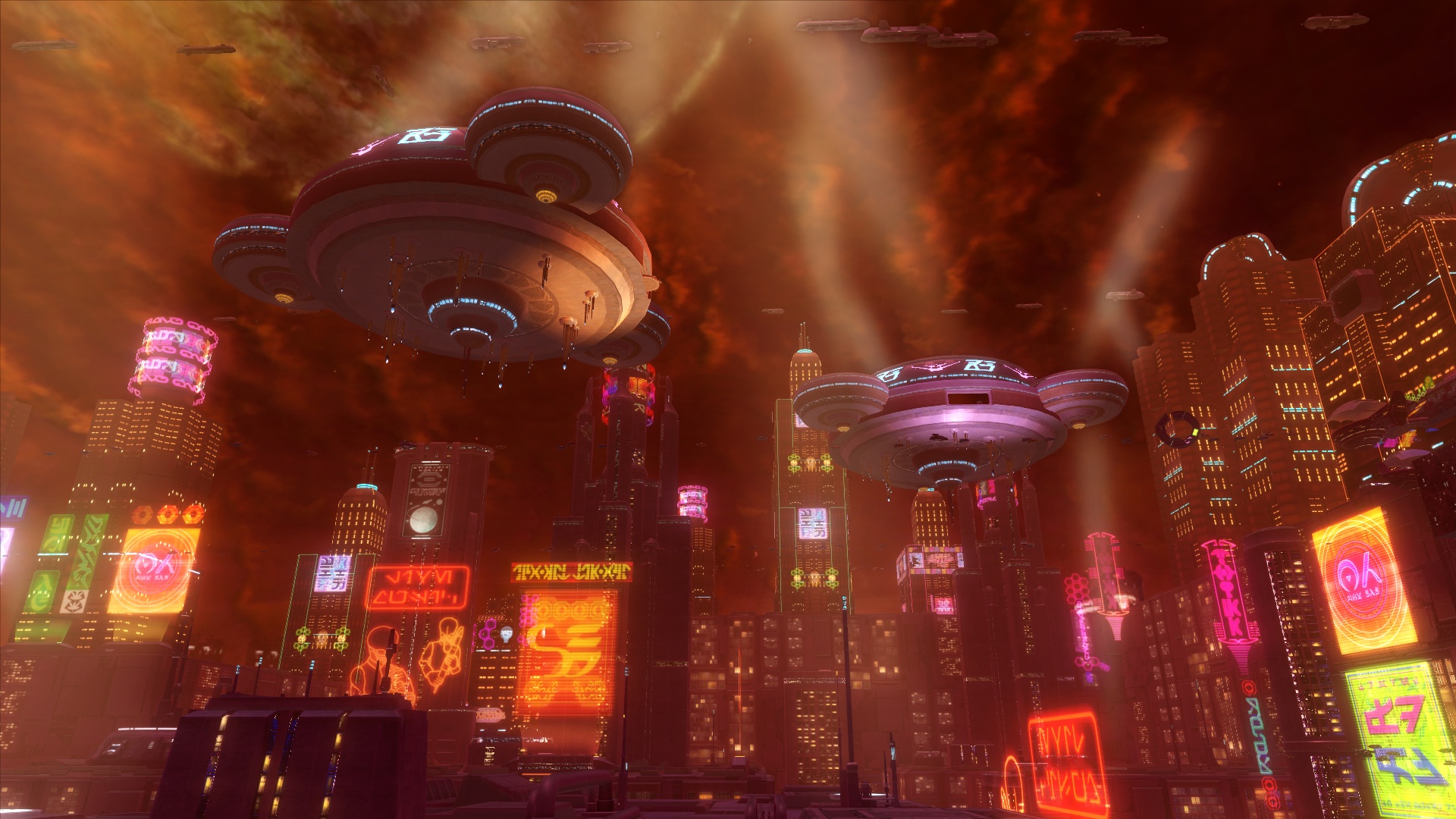 The "Imperial Palace" on Nar Shaddaa was something of a misnomer, what with the Emperor having been dead for five years and the Galactic Empire itself torn asunder for four. It wasn't exactly a palace, at least one one of the size and splendor of the Hutts who dominated the Smuggler's Moon. And it most certainly wasn't the residence of an Emperor, as no self-respecting Imperial worthy of the title, one of the elite from the Core Worlds, would be caught dead living in this filthy, decrepit, crime-ridden excuse for a city-world stuck in the center of Hutt Space in the uncivilized Outer Rim.

But it was an excellent place for a former Imperial radar technician who was forced to rise through the ranks far more quickly than he should have to hide out on once the Empire had started to collapse with the Emperor's death. Upon hearing the news of the death of Palpatine, Commander Alaric Feldeon had fled to this backwater world with a cadre of men from the unit he had commanded, and spent the last five years building up his own fledgling criminal enterprise, because that was just what you did on this stinking shitpile of a planet. Not even the Hutts were willing to mess with a man with a whole contingent of Stormtroopers and Imperial weaponry… so long as he didn't step on their tails first.

"The Commander", as he was still known to his loyal men, sat at a round table with a set of playing cards in his hand. His face was impassive, and his light blue eyes moved from the cards in his hands to his opponent: A large, imposing alien with four arms-- a Besalisk. Bolzano Derruk was a famed smuggler and bounty hunter, known for charging exorbitantly high prices for his services… and then earning them with his skills. Having four arms certainly helped in that regard.



"Heh, heheh-heheh…"

the Besalisk chuckled.

"You're out of luck, Imperial. You're out of creds now, too. Got anything to trade? Maybe the girl?"



Feldeon turned in his seat to look back at the figure Bolzano referred to: A tall, slender, and frankly gorgeous young human woman with fair skin and long red hair, clad in a slinky, elegant dress, sitting upon the edge of a nearby table.



"What do you think, my dear?"

the Commander asked, and the redhead set herself down on the ground, her high-heels clacking softly against the hard floor, and sauntered over to Feldeon. Leaning against him in a sultry manner, she brought her lips close to his ear as she looked at Bolzano with half-lidded eyes.



"I think he's bluffing… So sure. I'll let myself be put up as collateral,"

she said in a low tone, and the Commander grinned happily. The Besalisk did, too.

"Heheh… Prepare to lose your prized trophy girl, Feldeon… Sabacc!" Bolzano declared, putting down his cards and causing gasps and murmurs from the ring of onlookers around them. Feldeon didn't react except to look at Bolzano, who was already gathering up the large pot of gambling chips in his arms. "I'll be taking the creds… and your girl!" the alien crowed.



"Not so fast, my four-armed friend. It seems that I have an Idiot's Array!"

Feldeon declared in turn, revealing a hand of cards that was the only one higher than a straight 23. The crowd gasped, some cheered while others cursed. Bolzano, however, took this worst of all.

"BASTARD!" he cried, standing and literally flipping the table. Several onlookers scurried away, while others drew weapons and aimed them at the huge alien. Feldeon, however, didn't so much as flinch.



"Alanna, my love, it seems our friend needs a talking-to."



The redhead smiled, stepping up the angry Besalisk calmly and giving a subtle wave of her hand before placing it on his scaly arm in the same motion.



"You're going to calm down, and talk to the Commander like a mature adult,"

she said softly, calmly, and Bolzano grunted was his eyes became briefly unfocused.



"I'm gonna calm down, and talk to the Commander like a mature adult,"

he replied, taking a deep breath, and looking to the ground.

"I'm sorry for the mess. Don't know what came over me… I'm out,"

he said. Feldeon raised his arms magnanimously.



"Don't worry about it, friend. I'm glad we could discuss this like adults,"

the Commander said as Alanna sashayed back over to him and sat in his lap, just like he liked. He also liked it when she put her legs and feet in his lap as well for him to massage-- which she enjoyed much more than she was willing to admit, in turn-- but she never did so in public.



"Thank you, dear,"

he said, giving her a kiss on the cheek.

"You should go get ready, your number is coming up."





"You aren't going to watch?"

Alanna asked, and she seemed to pout. Feldeon grinned.



"Always. Now go."





"Yes, Master,"

Alanna replied, and she moved away to another part of the Palace. As she turned a corner and fell away from prying eyes, the smile on her face quickly melted into one of relief.

Force, at least that's done with… she thought, steeling herself for what was to come.



* * *​


Though she had never often showed it, Alanna was quite a graceful dancer. It came with the territory of being trained in the most graceful form of lightsaber combat, that which looked liked fluid dancing in itself with its focus on footwork and leverage. But in the weeks since being enslaved by the Commander, Alanna had been the main attraction amongst the ex-Imperial's slave girls; his favorite, and who received the most attention from his patrons in turn, which allowed her to show this off-- as well as a rather nice singing voice.

To be honest, it wasn't so bad… He didn't keep her leashed to a chain like a Hutt would, which gave her that much more freedom to move around during her set, as she was now, stepping gracefully, swinging her hips, and singing a slow, sultry song, the guest band behind her utilizing a low bass drum and string instruments to allow for simple notes and hooks that reverberated through the bar. Sparkle-bop, Alanna had been told the genre was, that had only been created after she had been frozen in carbonite and recently gained popularity. She had decided she liked it, and so long as she was stuck here, she might as well utilize it.

"When the stars come out at night,
And your body's close to mine,
Honey, I just can't help myself,
'Cause baby, baby, you're so fine…"

The only thing that Alanna didn't like about her gig was her outfit: A simple top that exposed her cleavage, a thin, flimsy veil skirt that only barely protected her modesty. The high-heeled sandals on her feet she liked, though, as stereotypical as it might be for a glamorous young woman to love shoes. And even then, she was realizing that a part of her liked strutting around on stage with a gentle spotlight on her, the skimpy outfit she wore that matched the color of her lightsaber blade-- currently hidden within an astromech serving drinks whom she trusted with her life-- glittering beautifully in the light as copious amounts of her body were exposed for others to appreciate… and lust over.

It went against everything her Jedi training had taught her about modesty, but she enjoyed it despite-- possibly even because of-- that. She had always known she was beautiful, but had never really acted on it. Now, she was presenting herself at the behest of her slave master. A master who was far kinder to her than he had any right to be, being an Imperial and a slaver. But Alanna hadn't seen those things when he had first gotten her alone. She had seen a socially-awkward man tripping over himself in apology and insisting that he wasn't ever going to hurt her.

And so far, Feldeon hadn't laid a finger on her, nor has any of his men or associates. In fact he had proven himself to be a surprisingly thoughtful and considerate man to her above his other slaves, and Alanna had used this to her advantage to get her hooks into him to give her more and more comforts. To get more and more influence over him, so that she could eventually convince him to free her and she could get the Hell out of here.

The problem, she reflected as her song came to an end and the audience cheered and applauded, including Feldeon himself, was that the longer she stayed here, the more attention he paid to her and the more comforts she was given, things she had never really been able to appreciate or indeed receive as a Jedi fighting a war and then as a rebel against the Empire… the more she wanted to stay here. Stay, and dance, and sing, and perhaps even spend time with Feldeon in his private chambers for more than light kissing and massages. And that scared her. Terrified her.

She had to find a way out of here. She had to get away from this environment, this electrum-gilded cage, before she decided it wasn't a cage anymore but a home… a home where the man in charge was lonely and in sore need of a loving wife.


@Chask274