Join Date

Feb 21, 2018
Messages

1,277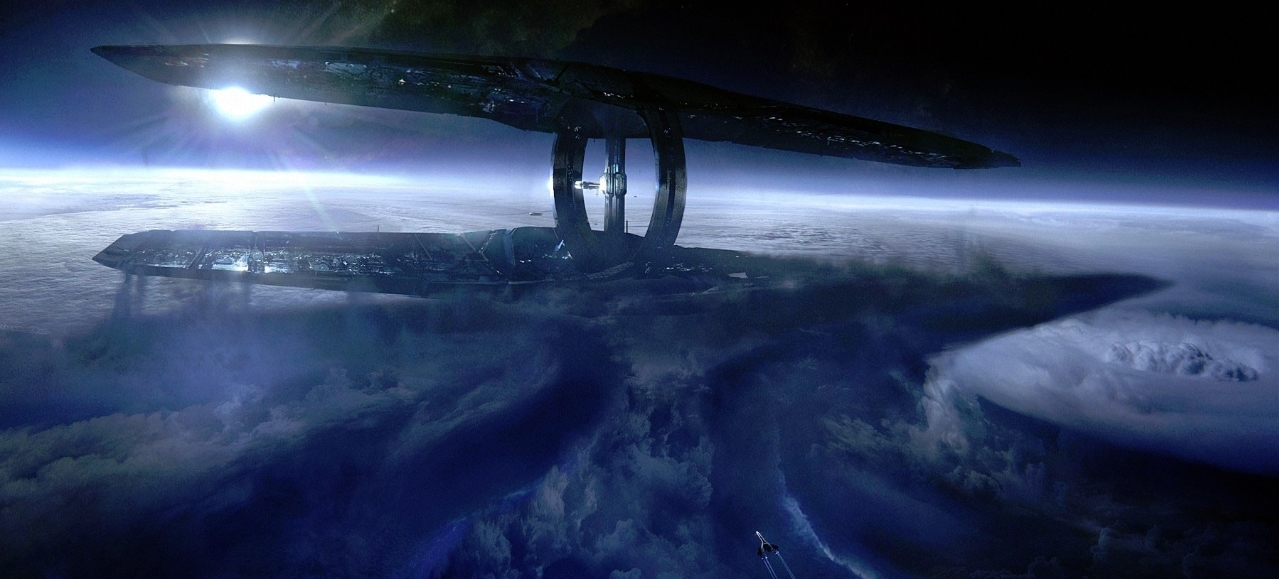 .
.
The Bastion
​
---
The day when the Odyssey Expedition would finally depart had arrived, and it was met by a flurry of activity in and around the Bastion. Supply and cargo ships slipped in and out of the massive station, while nearby the massive personnel transports moved colonists to the proper terminals to board their species' ark. The roar of conversation echoed through the station's central lobby as family members said their goodbyes, colonists bid their alien counterparts farewell, and lost colonists asked personnel for last minute directions. Rising from humming holographic transmitters, the Asari-esque Avina VI broadcast general instructions, while also offering personalized help to colonists that would stop and ask the VI questions.

If a colonist wasn't on their ark yet, getting their belongings tucked away prior to the freeze, they were likely here enjoying their last fleeting moment in the Milky Way. That happened to be exactly what Frankie, a colonist unlike any other present, was doing. The A.I. anxiously paced the lobby, experiencing the closest thing a synthetic could experience to worry. She'd spent months planning her infiltration of the Expedition, and how she would avoid discovery during the cryo-sleep process. For all of the organics present, such a procedure was risky and prone to complications — meaning that doctors and medical staff would be closely observing any colonist entering cryo-sleep. For Frankie, however, the transition from 'alert' to 'hibernation' would be seamless, and was one that she'd performed plenty of times. Her plan was to link her system to that of the ship, and for its proximity to their ultimate destination to trigger the awakening command with her. Her synthetic body was programmed well enough that, with the addition of the cryo-freezing, no complications should arise from long-term inactivity; she was only worried about successfully fooling all of the medical scanners and brainwave monitors. She'd fooled plenty before, but this was 'life or death' as organics often said. She'd be under closer scrutiny from medical personnel than ever before, and moreover if she was discovered now she was without a method of escape.

Attempting to force close the processes within her core that inspired the anxiety, Frankie moved towards one of the Avina terminals. She felt a pang of empathy for the VI, trapped in this transmitter and rudimentary runtime as it was. The VI lacked the programming of an AI to be truly intelligent, but its processes were close enough that she felt sorry for the machine.

Is this how organics view slavery? Or is it how they view their disabled? Exploratory processes will have to be dedicated to understanding such a conundrum upon arrival in Andromeda.

Ignoring her pity for the VI, Frankie began to speak to the VI, asking it simple questions to give the appearance that she was using it as intended. Instead, the AI was accessing Bastion and Icarus' systems to begin her deception of the medical scanners.


---


Rachel Vier rubbed her temples, fingers pressing against the soft pale skin to relieve an impending migraine. Despite three days having passed since the 'incident' in Osiris, she felt like she was still hungover. It'd only taken a few questions of her friends and associates for them to bombard her with a deluge of tales from the night of the Odyssey party, some even having found vids on the extranet of the debacle. It turned out that, in her inebriation, Rachel had decided she wanted to know once and for all what a quarian looked like under their helmet, and unfortunately she'd been successful. A quick check of Odyssey personnel using her clearance codes revealed that the quarian, Tam'Venik or 'Tammy' as Rachel had donned her, was being treated in the Alenko-Memorial Hospital onboard Bastion. Her condition was listed as stable, with diagnosis of multiple infections, and severe anaphylaxis, from prolonged toxic exposure. Her memory of the 'exposure' was splotchy, but she did recall seeing the look of surprise on the alien quarian face as her face mask came flying off and the girl was exposed to 'dirty' air.

Her body language conveying insecurity, Rachel slipped through Alenko-Memorial in search of room 3-41, where the database had listed Tammy. Approaching the tinted glass door she glanced around, taking in the nurses that bustled through the hall — though none of them seemed to give her any mind. In her right hand she clutched a datapad with the quarian's records pulled up. After learning that she'd risked the girl's life, Rachel had done a bit of research on the alien. Using her Alliance Military clearance, and the clearance given to her as a Security Operative with the Expedition, she was able to see a broader background report on the girl than most would. In her attempt to learn more about Tammy she'd found out that she'd been exiled from the Migrant Fleet, the detailed report on which had been a grim read. Rachel had derived a potential olive branch to make up somewhat for that night in Osiris. Hesitantly she pressed the chime affixed to the outside of the patient room, signaling to Tam that someone was attempting to visit her, and waited to hear the girl's response.
.